Sophos SG 210

Unleash the full potential of your network

Sophos SG 210 Series
Sophos SG 210
Sophos SG 210 TotalProtect 24x7
מחירים נוספים זמינים בהמשך הדף, לחצו כאן!

שימו לב: כל המחירים באתר כוללים מע"מ, לפי המחירון המומלץ של Sophos לאזור EMEA. החיוב יבוצע על פי שער "העברות והמחאות מכירה" של המטבע (דולר אמריקאי) ביום אישור ההזמנה.
סקירה:
בזמנים בהם הדרישות לביצועים איכותיים ברוחב הפס גדלות באופן עקבי, מוצרי אבטחת מידע נדרשים לספק ביצועים טובים יותר מאי פעם. סדרת ה-SG של Sophos נבנתה על מנת לספק ביצועים אופטימליים, גיוון ויעילות, כדי לענות על כל דרישות האבטחה שלכם.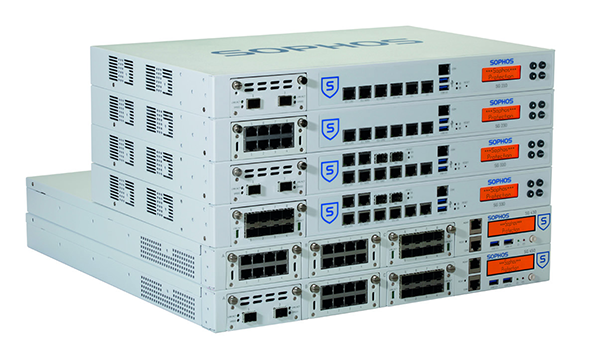 סדרת דגמי ה-SG של Sophos תוכננה לספק איזון אופטימלי בין ביצועים והגנה- לסביבות IT מגוונות. בין אם אתם צריכים פתרון לשלוחה משרדית קטנה, רוצים להגן על סביבת מוסד חינוכי או על ארגון גלובאלי הדורש High-Availability ואבטחה ברמת האנטרפרייז, מוצרי סדרת ה-SG הינם אידאליים עבור צרכים אלה.
גיוון
מכשירים המתאימים לכל סביבה
המבחר הגדול של הדגמים שלנו הופך את הבחירה במוצר המתאים לקלה ונוחה. ככל שמספר הדגם עולה כך גם רמת היכולות של המוצר עצמו ומספר הפורטים לאפשרויות חיבור.
כל אפשרויות רישיונות התוכנה זמינות בכל הדגמים, כך שאתם יכולים לבחור בצורה גמישה בפתרון המתאים לתקציב ולדרישות האבטחה הייחודיות שלכם. כל דגם כולל יכולות פיירוול מהדור הבא ואפשרויות אבטחה של "הכל-כלול" בקופסא אחת – הבחירה היא שלכם.
מהירות
יכולות מוכחות בכל הדגמים
המכשירים שלנו בנויים על בסיס הטכנולוגיה המתקדמת ביותר של אינטל. מעבדים אשר מיועדים לשימוש multi-core מאפשרים איחוד של פתרון האבטחה שלכם מבלי לוותר על רמת הביצועים.
הפיירוול הינו מהיר מאי פעם, ובעזרת יכולות IPS ו-VPN מתקדמות, דגמי סדרת ה-SG יכולים להתמודד עם מספר רב של משימות במקביל. בנוסף, אתם יכולים בקלות לשדרג את הביצועים ע"י cluster דינאמי של עד ל-10 יחידות מבלי להשתמש במאזני עומסים חיצוניים.
זמן תגובה
טכנולוגיה שנבנתה לעבד מידע בזמן אמת
הרשת שלכם משתנה כל הזמן כך שיכולות ההגנה שלכם צריכות להיות מותאמות לכך. כל הדגמים שלנו כוללים כוננים קשיחים מובנים בעלי מהירות גבוהה מאד ( בהמון מקרים גם SSD) עבור אחסון מקומי של ספאם, מידע ונגישות מהירה לדוחות מקיפים ולוגים בזמן אמת.
יכולות סריקה מואצים לתוכן פנימי במצב פרוקסי מאובטח הופכות את ההגנה שלכם ליותר אפקטיבית ויעילה.
אמינות
תכנון מיוחד לעסקים
בעזרת שימוש בטכנולוגיה העדכנית ביותר של אינטל, המוצרים שלנו מספקים את מלוא הגמישות. שדרגו את ההגנות שלכם ע"פ הצורך – מבלי לשנות או לשדרג את החומרה שלכם. המשמעות היא שאתם מרווחים מעדכוני ושדרוגי תוכנה עתידיים אשר מבטיחים את העלות מול תועלת הטובה ביותר.
יכולות Redundancy, כמו דיסק קשיח נוסף או power supply זמינות בדגם 1U SG 450 וגם בדגמי ה- 2U.
מודולריות
הגדרות גמישות בכל הדגמים
הגדירו את החומרה שלכם כדי שתתאים לתשתיות שלכם ובאותה מידה תוכלו לשנות הגדרות אלה לפי הצורך. הפורט האופציונלי שלנו FleXi Port LAN מעניק לכם את החופש לבחור בחיבור המתאים לכם - copper, fiber, 10GbE, אתם מחליטים.
FleXi Port הינם ברי החלפה לפי טווח, לדוגמה, 1U, כך שאתם יכולים להשתמש באותו מודול לכל דגמי ה- 1U, דבר שיחסוך לכם כסף רב במידה ותשדרגו לדגם מתקדם יותר בעתיד.
חיבור
כיסוי Wireless מלא – לכל משרד
כל אחד מהמוצרים שלנו כולל Wireless controller מובנה, כדי שתוכלו לחבר את ה- AP's של Sophos ולנהל אותם בפשטות מיחידת הניהול המרכזית שלכם.
Key Features:
The Sophos SG Series appliances offer many features that make your network protection easier to manage and simpler to deploy.
Intel technology inside
Our hardware uses the latest Intel technology to provide the best performance and ensure the optimal use of resources.
By using standard Intel technology rather than customized hardware chips, our appliances are easy to upgrade and benefit from future software enhancements. That gives you greater flexibility and value for your money.
Solid State Drives – fast access, low impact
Solid State Drives, or SSDs, provide faster data storage without the performance impact of rotating drives. Whether you're scanning large volumes of emails, or generating highly complex reports, they allow you to get more done faster.
As there are no moving parts, they provide a reliable highcapacity solution for your network with all functionality on the box, rather than requiring a separate appliance.
FleXi Ports – customize your connectivity
FleXi Port modules let you tailor your security appliance to fit your network connectivity needs.
On our SG 2xx, 3xx and 4xx appliances, you can select additional modules with copper and 1/10 GbE fiber interfaces to easily expand and upgrade your hardware.
They're fully interchangeable between models, so if your business grows and you upgrade, you can simply take the module you've already purchased and slot it into your new appliance – for example, going from an SG 210 to an SG 330.
LCD Display – everything in view
The multi-function LCD display allows you to quickly check the status and do basic administrative tasks directly on the appliance.
You can directly connect a monitor using the built-in VGA port.
| | |
| --- | --- |
| 8 port GE copper Flexi Port module | 8 port GE SFP FleXi Port module |
| 2 port 10 GE SFP+ FleXi Port module | LCD Display |
SG Series Appliances - Medium:
The Sophos SG Series offers you a choice of six appliances for mid-sized enterprises.
Your Sophos partner or sales contact will be happy to provide a recommendation for the most suitable appliance based upon your individual requirements, infrastructure and user environment. The following are general recommendations only.
SG 210, SG 230
Ideal for branch offices and small- to medium-sized environments
SG 310, SG 330
Ideal for distributed organizations and growing medium-sized environments
SG 430, SG 450
Ideal for medium-sized and distributed organizations looking for enterprise performance and reliability
Unrivalled performance, unmatched flexibility
All of these appliances provide outstanding performance guaranteed to minimize latency on your network.
Engineered to effortlessly handle multi-layered security, you get best-of-breed throughput unrivalled in this 1U class.
Over 10 Gbit/sec firewall throughput on every model.
Configure your chosen appliance with the connectivity you need using our FleXi Port modules. With options for copper and 1/10 GbE fiber interfaces, you can select the module that suits your requirements. All modules are fully interchangeable between appliances in this range.
SG Series Comparision
Medium SG Series
SG 210
SG 230
SG 310
SG 330
SG 430
SG 450
Firewall throughput
11 Gbps
13 Gbps
17 Gbps
20 Gbps
25 Gbps
27 Gbps
VPN throughput
1 Gbps
2 Gbps
3 Gbps
4 Gbps
4 Gbps
5 Gbps
IPS throughput
2 Gbps
3 Gbps
5 Gbps
6 Gbps
7 Gbps
8 Gbps
Antivirus throughput (proxy)
500 Mbps
800 Mbps
1.2 Gbps
1.5 Gbps
2 Gbps
2.5 Gbps
Concurrent connections
2,000,000
2,500,000
3,200,000
3,500,000
4,000,000
5,000,000
New connections per. sec.
20,000
22,000
50,000
70,000
100,000
190,000
Ethernet interfaces (fixed)
(6) GbE copper
(6) GbE copper
(8) GbE copper
(2) GbE SFP
(8) GbE copper
(2) GbE SFP
N/A
N/A
No. of FleXi port slots
1
1
1
1
3
(1) 8-port GbE copper
module included
3
(1) 8-port GbE copper
module included
Deployment:
Whatever your deployment scenario, these appliances can handle multiple security solutions in every situation. The following diagrams show typical deployments in this range.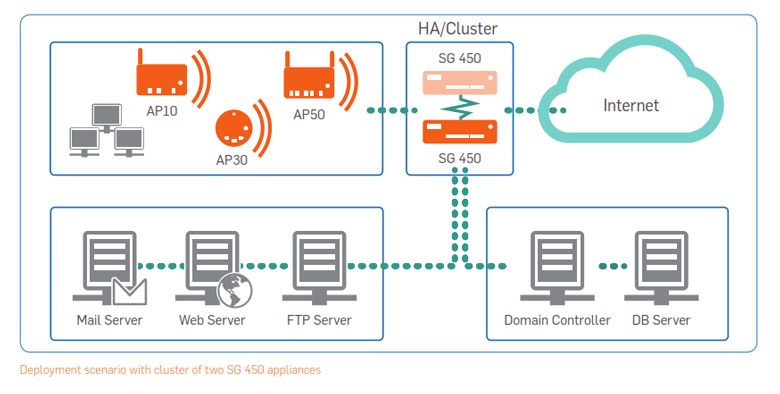 Specifications:
The Sophos SG 210 and SG 230 are designed to protect small to mid-sized businesses and branch offices. Based on the latest Intel technology and equipped with 6 GbE copper ports plus one FleXi Port slot to configure with an optional module, they provide high flexibility and throughput at an excellent price-to-performance ratio. As with all models, you can dynamically cluster up to 10 of these appliances.
SG Series Appliances: SG 210, SG 230
Front View
Performance
SG 210
SG 230
Firewall throughput
11 Gbps
13 Gbps
VPN throughput
1 Gbps
2 Gbps
IPS throughput
2 Gbps
3 Gbps
Antivirus throughput (proxy)
500 Mbps
800 Mbps
Concurrent connections
2,000,000
2,500,000
New connections/sec
20,000
22,000
Maximum licensed users
unrestricted
unrestricted
Back View
Physical interfaces
Hard drive (local quarantine/logs)
integrated HDD
integrated SSD
Ethernet interfaces (fixed)
6 GE copper
6 GE copper
No. of FleXi Port slots
1
1
FleXi Port modules (optional)
8 port GE copper
8 port GE SFP
2 port 10 GE SFP+
8 port GE copper
8 port GE SFP
2 port 10 GE SFP+
I/O ports
2 x USB 3.0 (front)
1 x USB 2.0 (rear)
1 x COM (RJ45)
(front)
1 x VGA (rear)
2 x USB 3.0 (front)
1 x USB 2.0 (rear)
1 x COM (RJ45)
(front)
1 x VGA (rear)
Display
Multi-function
LCD module
Multi-function
LCD module
Power supply
Internal autoranging
110250VAC,
48-62 Hz
Internal autoranging
110250VAC,
48-62 Hz
Physical specifications
Environment
Mounting
1U rack mount
(2 rackmount ears included)
Power consumption
52W, 180 BTU/hr, 0.61A@110V
(idle), 78W, 266 BTU/hr,
0.87A@110V (full load)
Dimensions
Width x Depth x Height
438 x 292 x 44mm
17.24 x 11.5 x 1.75 inches
Operating temperature
0-40°C (operating)
-20 to +80°C (storage)
Weight
5.1 Kg / 11.24 lbs (unpacked)
7.05 Kg / 15.54 lbs (packed)
Humidity
10%-90%, non-condensing

Safety Certifications
Certifications
CE, FCC Class A, CB, VCCI, C-Tick, UL
How to Buy:
Three simple steps will get you complete security with Sophos UTM
Choose How To Deploy
Hardware, software, virtual or cloud-based appliance
Choose Your License
Choose pre-packaged licenses or license modules individually
Choose to Extend Your Protection
Plug in Sophos access points for Secure Wi-Fi and with Sophos RED extend protection to branch offices
You can read more about these steps below. And if you need help deciding what's right for you, simply contact us. We'll both be happy to help.
Choose How To Deploy
Choose the right appliance for your environment—is it hardware, software, virtual or even cloud-based?
Hardware
Our range of models fit any environment and are purpose-built to deliver high-performance. They integrate our security applications with a hardened operating system (OS) on optimized Intel-compatible server systems.
Virtual
Virtual appliances are certified as VMware Ready and Citrix Ready. They also run in Microsoft Hyper-V and KVM virtual environments.
Software
Easily installs on your existing hardware.
Cloud-based appliances
Using Amazon Virtual Private Cloud (VPC), you can run the appliance in the cloud. Or, you can use the Amazon VPC connector on the appliance at your office for secure and robust access to your Amazon-hosted resources.
Choose Your License
We give you the flexibility to license our protection modules individually. Or, you can choose one of our pre-packaged licenses. Whatever suits your needs.
Modules
Next-Gen Firewall
BasicGuard
FullGuard
Essential Firewall – Free Network Firewall, NAT, Native Windows Remote Access
Datasheet
Full
Full
Full
Network Protection IPSec/SSL VPN, Intrusion Prevention, DoS Protection
Datasheet
Full
Basic
Full
Web Protection URL Filtering, Application Control, Dual Engine Antivirus
Datasheet
Full
Basic
Full
Email Protection Anti-spam, Email Encryption, Dual Engine Antivirus
Datasheet
Optional
Basic
Full
Wireless Protection Wireless Controller, Multi-SSID Support, Captive Portal
Datasheet
Optional
Basic
Full
Webserver Protection Web Application Firewall, Reverse Proxy, Antivirus
Datasheet
Optional
-
Full
Endpoint Protection Antivirus, HIPS, Device Control
Datasheet
Optional
Optional
Optional
Choose to Extend Your Protection
Choose the accessories you need to protect your branch offices and deploy secure Wi-Fi too:
Sophos RED Secure your branch offices by forwarding all traffic to the central Sophos UTM. Installation requires no technical training and there is no ongoing maintenance.
Wi-Fi Access Points Get secure Wi-Fi fast. Users are instantly protected by the UTM, and let you create secure mesh networks too.
Security Applications:
Our Linux-based OS includes a free Essential Network Firewall. It provides fundamental security like firewalling, networking tools, routing and secure remote access. And our modular approach lets you add layers of protection as your needs evolve.
UTM Network Protection stops sophisticated attacks that a firewall alone can't stop.
Configurable intrusion protection system and flood protection against denial of service attacks
Sophos RED, IPsec and SSL tunnels provide flexible site-to-site and remote-access VPN connections
UTM Email Protection stops spam and viruses and keeps sensitive data safe.
Let users manage their spam quarantine and search a personalized mail log
Keep infected emails out of your mailbox and protect confidential emails against illegitimate access.
UTM Web Protection lets you protect your employees from web threats and control their time online.
Limit use of unwanted applications while giving priority to business critical resources
Create dynamic reports on the fly to check if your policy is working and make adjustments
UTM Webserver Protection hardens web servers and apps ensuring compliance with a web application firewall.
Protect personally identifiable information like credit card and social security numbers
Inspects information submitted via forms on your websites to prevent server exploits
UTM Wireless Protection gives you secure Wi-Fi in minutes.
Centrally manage access points through the UTM's built-in wireless controller
Easily set up wireless hotspots and grant guest access with a simple voucher-based system
UTM Endpoint Protection provides desktops, laptops, and servers with antivirus, device and web control.
Scans files, webpages and devices blocking or cleaning threats
Device control reduces the risk of data loss and malware by managing removable devices
Built-in URL filtering ensures users get the same level of web protection outside of the office as they do inside
Add modules when you need them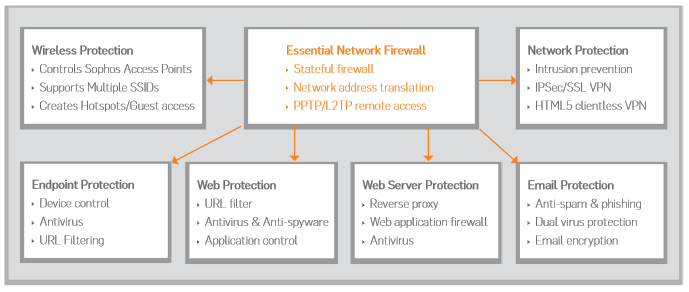 הערות תמחור:
שימו לב: כל המחירים באתר כוללים מע"מ.
מחירי המוצרים וזמינותם כפופים לשינויים ללא הודעה מוקדמת.
במידה ודגם ה-SG הקיים שלכם לא כולל רישיון בתוקף, יהיה עליכם לרכוש רישיון חדש.
במידה ויש ברשותכם רישיון אקטיבי עם מכשיר SG קיים, תוכלו לחדש את הרישיון הזה ע"י רכישת אפשרות חידוש.
האחריות עבור נקודת הגישה (AP) לא כלולה עבור רישיון SG Wireless ולכן יהיה עליכם לרכוש אותה בנפרד.