Sophos XG 115w

Unleash the full potential of your network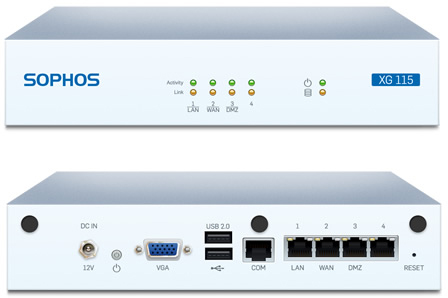 Sophos XG Series
XG 115w Base Appliance
XG 115 WiFi TotalProtect 24x7
Includes: XG 115 Appliance and FullGuard subscription. Cannot be un-bundled.
XG 115 WiFi EnterpriseProtect 24x7
Includes: XG 115 Appliance and EnterpriseGuard subscription. Cannot be un-bundled.
מחירים נוספים זמינים בהמשך הדף, לחצו כאן!

שימו לב: כל המחירים באתר כוללים מע"מ, לפי המחירון המומלץ של Sophos לאזור EMEA. החיוב יבוצע על פי שער "העברות והמחאות מכירה" של המטבע (דולר אמריקאי) ביום אישור ההזמנה.
סקירה:
Sophos XG Firewall takes an innovative approach across all areas of network security. From the way firewalls are managed, to the way they report information and how they work with other security systems around them, giving you an unprecedented level of simplicity, insight, and advanced threat protection.
With an interface designed to eliminate unnecessary complexity, it enables you to use the powerful features without needing to become an IT security expert.
Advanced protection kept simple
Most firewall products make you set up and manage policies across multiple modules or screens. Not Sophos. We provide a powerful unified policy model that allows you to manage, view, filter, and sort all your user, application and network policies on a single screen.
Potent, powerful … fast
You get all the next-gen firewall features you need plus features you can't get anywhere else - including our revolutionary Security Heartbeat™, full web application firewall, and complete email anti-spam, encryption and DLP. No extra hardware. No extra cost. Simply choose what you want to deploy
On-box reports included as standard
With hundreds of built-in reports you'll know exactly what's happening with your users and your network. You get detailed reports as standard, stored locally with no separate tools required. And our unique User Threat Quotient reports show you which of your users are putting your security at risk.
More-in-one protection
We've engineered XG Firewall to deliver outstanding performance. Our appliances are built using Intel multi-core technology, solid-state drives, and accelerated in-memory content scanning. In addition Sophos FastPath packet optimization technology ensures you'll always get maximum throughput.
Simply manage multiple firewalls
Sophos Firewall Manager provides a single console for the complete central management of multiple SF-OS firewalls. And if you also want to consolidate reporting across multiple SF-OS, Sophos UTM v9.x and Cyberoam OS appliances then with Sophos iView, you can.
Policy templates get you protected fast
Pre-defined policy templates let you protect common applications like Microsoft Exchange or SharePoint fast. Simply select them from a list, provide some basic information and the template takes care of the rest. It sets all the inbound/outbound firewall rules and security settings for you automatically - displaying the final policy in a statement in plain English.
Patented Layer-8 Identity control
User identity takes enforcement to a whole new layer with our patented Layer-8 identity based policy technology enabling user level controls over applications, bandwidth and other network resources regardless of IP-address, location, network or device. It literally takes firewall policy to a whole new layer
Flexible deployment, no compromise
Unlike our competitors whether you choose hardware, software, or virtual we don't make you compromise - every feature is available on every model and form- factor
Automated user risk reports
The Sophos User Threat Quotient (UTQ) indicator is a unique feature which provides actionable intelligence on user behavior. Our firewall correlates each user's surfing habits and activity with advanced threat triggers and history to identify users with risk-prone behavior.
A revolution in advanced threat protection - Sophos Security Heartbeat™
An industry first, our Security Heartbeat links your endpoints and your firewall to combine their intelligence and identify systems compromised by previously unknown threats. The Heartbeat status is integrated into security policy settings to instantly trigger actions at both endpoint and network levels to isolate or limit access until systems are healthy again. This feature requires Sophos Cloud Endpoint Protection Advanced or Sophos Cloud Enduser Protection.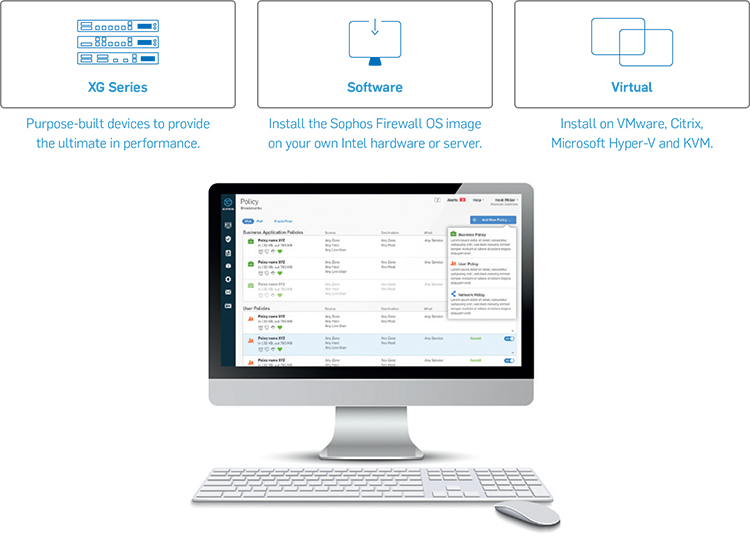 Compare Models:
With desktop models for small businesses looking for Unified Threat Management, to high-performance next-generation firewalls with features for high-availability in datacenter environments, our Intel® based appliances cover multiple deployment scenarios.
Model
Tech. Specs
Throughput
Form Factor
Maximum Ports (GE)
WiFi
Storage
RAM (GB)
Firewall (Mbps)
VPN (Mbps)
IPS (Mbps)
AV-Proxy (Mbps)
XG 85(w)
Desktop
4
802.11 a/b/g/n
8 GB eMMC
2
2,000
200
510
330
XG 105(w)
Desktop
4
802.11 a/b/g/n
64 GB SSD
2
3,000
300
700
430
XG 115(w)
Desktop
4
802.11 a/b/g/n
64 GB SSD
4
3,500
350
900
520
XG 125(w)
Desktop
8
802.11 a/b/g/n/ac
64 GB SSD
4
5,000
410
1,000
590
XG 135(w)
Desktop
8
802.11 a/b/g/n/ac
64 GB SSD
6
7,000
950
1,750
1,400
XG 210
1U
14 (6 + 1 module)
n/a
120 GB SSD
8
14,000
1,350
2,700
2,300
XG 230
1U
14 (6 + 1 module)
n/a
120 GB SSD
8
18,000
1,500
4,200
2,800
XG 310
1U
18 (8 + 2SFP + 1 module)
n/a
180 GB SSD
12
25,000
2,500
5,500
3,300
XG 330
1U
18 (8 + 2SFP + 1 module)
n/a
180 GB SSD
12
30,000
3,200
8,500
6,000
XG 430
1U
24 (8 + 2 modules)
n/a
240 GB SSD
16
37,000
4,800
9,000
6,500
XG 450
1U
24 (8 + 2 modules)
n/a
2*240 GB SSD (RAID-1)
16
45,000
5,500
10,000
7,000
XG 550
2U
24 (8 + 2 modules)
n/a
2*300 GB SSD (RAID-1)
24
60,000
8,400
17,000
10,000
XG 650
2U
32 (8 + 3 modules)
n/a
2*480 GB SSD (RAID-1)
48
80,000
9,000
20,000
13,000
XG 750
2U
64 (8 + 7 modules)
n/a
2* 512 GB SSD (RAID-1)
64
140,000
11,000
22,000
17,000
This is what you get with every XG Series Appliance:
The latest Intel multi-core technology for optimal performance and efficiency
Sophisticated security features such as Advanced Threat Protection available on every size of appliance
Built-in SSD as storage for local quarantine data, logs and reporting*
FleXi Port modules available for all 1U and 2U appliances
* Excludes XG 85/XG 85w
Specifications:
These entry-level desktop firewalls are the ideal choice for budget-conscious small businesses, retail and small or home offices. They are available with and without integrated wireless LAN, so you can have an all-in-one network security and hotspot solution without the need for additional hardware. The Intel dual-core technology makes them highly efficient and as they're fanless, they won't add unwanted noise to your office space.
XG Series Appliances: XG 115 and XG 115w
Front View
Performance
XG 105(w)
XG 115(w)
Firewall throughput
3 Gbps
3.5 Gbps
VPN throughput
300 Mbps
350 Mbps
IPS throughput
700 Mbps
900 Mbps
Antivirus throughput (proxy)
430 Mbps
520 Mbps
Concurrent connections
3,200,000
6,000,000
New connections/sec
27,500
27,500
Maximum licensed users
unrestricted
unrestricted
Wireless Specification (XG 105w only)
No. of antennas
3 external
3 external
MIMO capabilities
3 x 3:3
3 x 3:3
Wireless interface
802.11a/b/g/n (2.4 GHz / 5 GHz)
802.11a/b/g/n (2.4 GHz / 5 GHz)
Back View
Physical interfaces
Storage (local quarantine/logs)
integrated SSD
integrated SSD
Ethernet interfaces (fixed)
4 GE copper
4 GE copper
I/O ports (rear)
2 x USB 2.0
1 x COM (RJ45)
1 x VGA
2 x USB 2.0
1 x COM (RJ45)
1 x VGA
Power supply
External auto ranging DC: 12V, 100-240VAC, 50-60 Hz
External auto ranging DC: 12V, 100-240VAC, 50-60 Hz
Physical specifications
Environment
Mounting
Rackmount kit available
(to be ordered separately)
Power consumption
4.83W, 16.468 BTU/hr (idle)
9.84W, 33.55 BTU/hr (full load)
Dimensions
Width x Depth x Height
225 x 150 x 44 mm
8.86 x 5.91 x 1.73 inches
Operating temperature
0-40°C (operating)
-20 to +80°C (storage)
Weight
1.19 kg / 2.62 lbs (unpacked)
2.185 kg / 4.82 lbs (packed)
Humidity
10%-90%, non-condensing

Product Certifications
Certifications
CB, CE, FCC Class B, IC, VCCI, MIC, RCM, UL, CCC
How to Buy:
Every appliance comes with our Base Firewall as standard which includes IPSec and SSL VPN and comprehensive Wireless Protection. You can extend protection with our total protection bundles or by adding protection modules individually.
| | | |
| --- | --- | --- |
| Network Protection | Wireless Protection | Web Protection |
| All the protection you need to stop sophisticated attacks and advanced threats while providing secure network access to those you trust. | Set up, manage and secure wireless networks in just minutes with the UTM's built-in wireless controller that works with our full range of wireless access points. | Comprehensive protection from the latest web threats and powerful policy tools ensures your users are secure and productive online. |
| Security Heartbeat™ | Email Protection | Web Server Protection |
| Links your Sophos endpoints with your firewall to deliver unparalleled protection from advanced threats and reduce the time and complexity of responding to security incidents. | Full SMTP and POP message protection from spam, phishing and data loss with our unique all-in-one protection that combines policy-based email encryption with DLP and anti-spam. | Harden your web servers and business applications against hacking attempts while providing secure access to external users with reverse proxy authentication. |
A simple approach to comprehensive support
We build products that are simple yet comprehensive. And, we take the same approach with our support. With options ranging from basic technical support to those including direct access to senior support engineers and customized delivery.
Licenses Names
Standard
Included with purchase
Enhanced
Included in all bundles
Enhanced Plus
Support
Via telephone and email
For 90 days
(business hours only)
Included
(24x7)
VIP Access
(24x7)
Security Updates & Patches
For the life of the product
Included with an active software subscription
Included with an active software subscription
Included with an active software subscription
Software Feature Updates & Upgrades
Included 90-days
Included
Included
Consulting
Remote consultation on your firewall configuration and security with a Sophos Senior Technical Support Engineer
Included (up to 4 hours)
Warranty and RMA
For all hardware appliances
1 year (return / replace)
Advance Exchange
(max. 5 years)
Advance Exchange
(max. 5 years)
Technical Account Manager
Dedicated named technical account manager
Optional
(extra cost)
Optional
(extra cost)
Endpoint Protection
Antivirus, HIPS, Device Control
Yes
Optional
Optional
הערות תמחור:
שימו לב: כל המחירים באתר כוללים מע"מ.
מחירי המוצרים וזמינותם כפופים לשינויים ללא הודעה מוקדמת.
במידה ודגם ה-XG הקיים שלכם לא כולל רישיון בתוקף, יהיה עליכם לרכוש רישיון חדש.
במידה ויש ברשותכם רישיון אקטיבי עם מכשיר SG קיים, תוכלו לחדש את הרישיון הזה ע"י רכישת אפשרות חידוש.
האחריות עבור נקודת הגישה (AP) לא כלולה עבור רישיון XG Wireless ולכן יהיה עליכם לרכוש אותה בנפרד.